Business Certificate Course by Siddharth Prabhakar | Premium Pre-recorded Lessons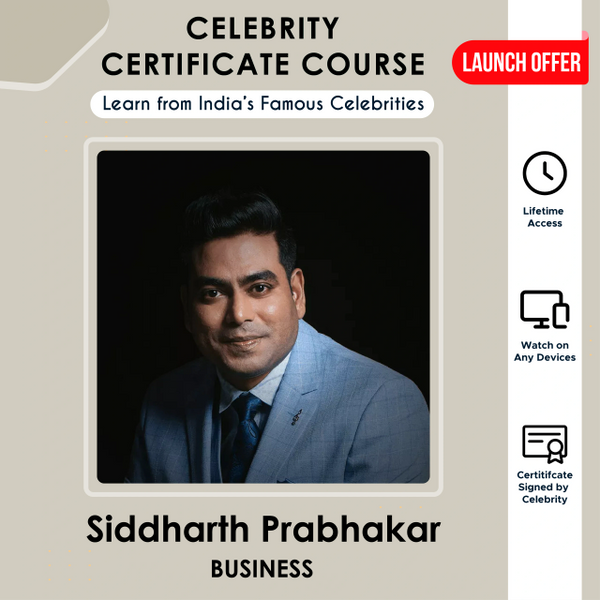 Business Certificate Course by Siddharth Prabhakar | Premium Pre-recorded Lessons
Serial entrepreneur Siddharth Prabhakar started his first business at the age of 14 and created 8 successful ventures that revolutionized school contact training programs. With only himself as the employee to more than 450 employees across India, he believes in Think Big Start Small. Siddharth teaches Mission Business model that has helped more than 80,000 people to successfully launch their online business.

No. of Lessons: 23
Video Duration:
 3 hours 20 mins
Details of Lessons
Lesson 1. Jump In
Lesson 2. Business Mindset
Lesson 3. How to Make Money in Any Business?
Lesson 4. Mission Business Model
Lesson 5. The Core of Any Business
Lesson 6. Product - 1
Lesson 7. Product - 2
Lesson 8. List of Handpicked Top Product Niches
Lesson 9. How to Sell a Million Units in Any Business?
Lesson 10. Pricing
Lesson 11. Where to Sell?
Lesson 12. Ad Hacking
Lesson 13. Growth Hacking
Lesson 14. How to Sell High Ticket Products?
Lesson 15. How to Achieve Tipping Point?
Lesson 16. Content Factory
Lesson 17. Profit Multiplier
Lesson 18. How to Build a Tribe? (Part 1)
Lesson 19. How to Build a Tribe? (Part 2)
Lesson 20. Go Viral
Lesson 21. 10x Success
Lesson 22. Practical Business Action Plan
Lesson 23. Get Your Hands Dirty


FAQ
What does Siddharth Prabhakar teach in his Business course?

Siddharth Prabhakar teaches you his business strategies which are helpful for beginners as well as intermediate and advanced entrepreneurs. The course is a self-learning tool and helps you improve at your own pace.

Are there practical tips given by Siddharth Prabhakar?

Siddharth Prabhakar teaches you everything i.e. real-life business strategies, which will help you to launch your business quickly and successfully. The course is full of ideas and practical tips and growth hacks.


Reviews