Independent Acting Certificate Course by Nawazuddin Siddiqui | Premium Pre-recorded Lessons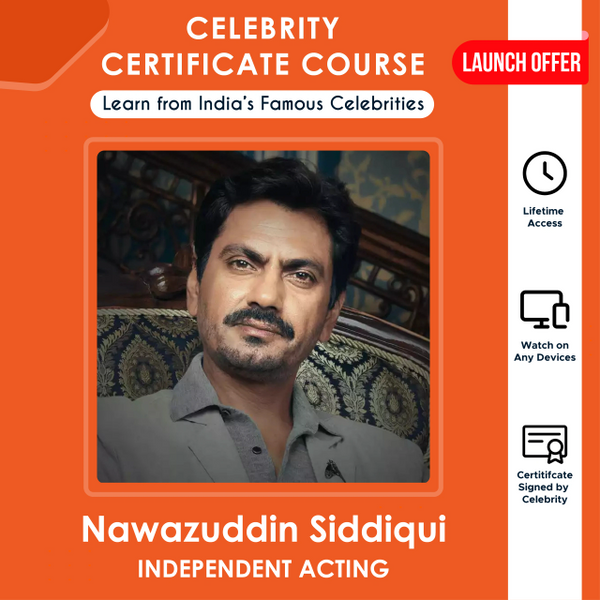 Independent Acting Certificate Course by Nawazuddin Siddiqui | Premium Pre-recorded Lessons
Nawazuddin Siddiqui started his acting career with a half-a-minute role in the movie, Sarfarosh. Today, he is one of the most sought-after actors in India and has performed well in almost all genres of movies, from Gangs of Wasseypur to Thackeray. As a trained actor from the National School of Drama (NSD), he uses advanced acting techniques to portray complex characters. In his first-ever acting class, Nawazuddin shows how research is at the core of every great performance, how to bring real-life experiences into every role and how to build your own characters.

No. of Lessons: 34
Video Duration:
 3 hours 13 mins
Details of Lessons
Lesson 1. Introduction to Acting
Lesson 2. The Actor's Journey
Lesson 3. Memorizing Dialogues on the Spot
Lesson 4. Preparing Dialogues in Advance
Lesson 5. Tools of Acting
Lesson 6. Preparing to Play Real-Life Characters
Lesson 7. Research: Fictional Characters
Lesson 8. Method Acting
Lesson 9. Practically Developing a Character for a Movie
Lesson 10. On-Set Film Acting Tips
Lesson 11. Acting for Camera (Part 1)
Lesson 12. Acting for Camera (Part 2)
Lesson 13. Imagination
Lesson 14. Observation
Lesson 15. Acting Exercises Using Observation
Lesson 16. Concentration
Lesson 17. Student Session: Practical Script Break Down
Lesson 18. Voice
Lesson 19. Eye contact
Lesson 20. How to Evoke Emotions on Camera?
Lesson 21. Listening
Lesson 22. Film Acting vs Theatre Acting
Lesson 23. Nawazuddin Siddiqui's Favourite Acting Exercises
Lesson 24. Creating Characters: Costume
Lesson 25. Creating Characters: Hair and Makeup
Lesson 26. Props
Lesson 27. Show Reel and Portfolio
Lesson 28. Audition
Lesson 29. How to Secure Your First Role?
Lesson 30. Nawazuddin Siddiqui's Favourite Acting Practical Assignments
Lesson 31. Dubbing
Lesson 32. Working with Directors and Networking with Them for Super Success
Lesson 33. The Beginners Guide to Acting in Bollywood
Lesson 34. Just Do It

FAQ
What does Nawazuddin Siddiqui teach in his Acting course?

Nawazuddin Siddiqui teaches you his acting techniques which are helpful for beginners as well as intermediate and advanced actors. The course is a self-learning tool and helps you improve at your own pace..

Are there practical exercises given by Nawazuddin Siddiqui?

Nawazuddin Siddiqui teaches you everything - theory and practical techniques, which will help you to improve your Acting. The course is full of exercises and practical tips and tricks.
Reviews