Independent Filmmaking Certificate Course by Madhur Bhandarkar | Premium Pre-recorded Lessons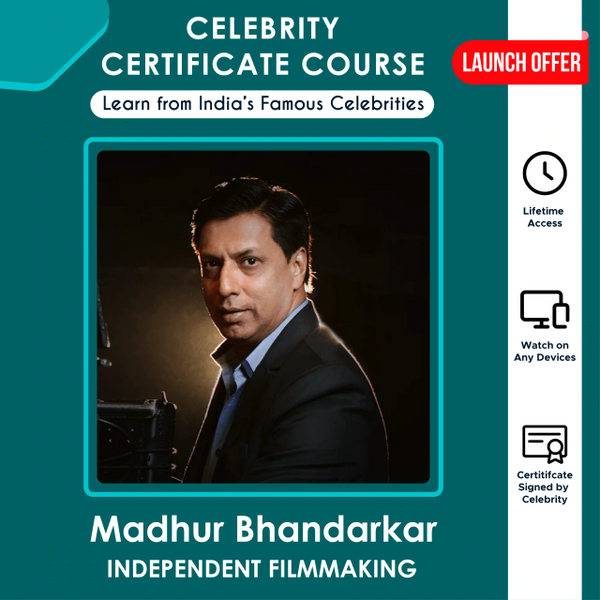 Independent Filmmaking Certificate Course by Madhur Bhandarkar | Premium Pre-recorded Lessons
Madhur Bhandarkar worked as a delivery boy for a video cassette library before directing films. Today he is critically acclaimed for making movies from Chandni Bar to Heroine that create a social impact. In his first-ever online class, the National Award winner teaches his approach, from storytelling to editing to working with actors. He practically teaches on set Direction to make hard hitting movies in a small budget.

No. of Lessons: 34
Video Duration:
 3 hours 2 mins
Details of Lessons
Lesson 1. Introduction to Direction
Lesson 2. How to Make Your First Film When You Have No Money?
Lesson 3. How to Learn Filmmaking by Watching Movies?
Lesson 4. Learn Filmmaking by Deconstructing Movie Scenes
Lesson 5. Discovering Your Unique Voice as a Filmmaker
Lesson 6. How to Make Films That Create a Social Impact?
Lesson 7. Finding Your Story Idea
Lesson 8. Financing Your First Film and Stretching Your Budget
Lesson 9. Film Grants Every Filmmaker Should Try
Lesson 10. How to Conduct Your Research?
Lesson 11. Developing Your Directing Style
Lesson 12. Practical Scene Workshop
Lesson 13. How to Shoot a Scene?
Lesson 14. Madhur's Favourite Camera Shots and Angles
Lesson 15. Locations
Lesson 16. Madhur Bhandarkar's Shoot Location Scouting Checklist
Lesson 17. Understanding Cinematography and Working with Your Cinematographer
Lesson 18. Practical On-Set Directing
Lesson 19. The Idea to Screenplay for Storyboarding
Lesson 20. Casting
Lesson 21. Making the Script Shoot Ready
Lesson 22. Practically Directing Actors on Set
Lesson 23. Editing
Lesson 24. The Power of Sound and Music
Lesson 25. Costume Design    
Lesson 26. Career Strategy and Networking
Lesson 27. Showreel
Lesson 28. Top Indian and International Film Festivals
Lesson 29. Filmmaker's Inspiration    
Lesson 30. Story Narration
Lesson 31. Creating a Successful Career as a Film Director
Lesson 32. List of Top Film Production Companies in India That Take Interns
Lesson 33. Start Telling Your Story Now
Lesson 34. Madhur Bhandarkar's eBook to Help You Tell Your Stories Better

FAQ
What does Madhur Bhandarkar teach in his Direction course?

Madhur Bhandarkar teaches you his techniques which are helpful for beginners as well as intermediate and advanced directors. The course is a self-learning tool and helps you improve at your own pace.

Are there practical exercises given by Madhur Bhandarkar?

Madhur Bhandarkar teaches you everything - theory and practical techniques, which will help you to improve your Direction skills. The course is full of exercises and practical tips and tricks.
Reviews