MakeUp and Hair Certificate Course by Ojas Rajani | Premium Pre-recorded Lessons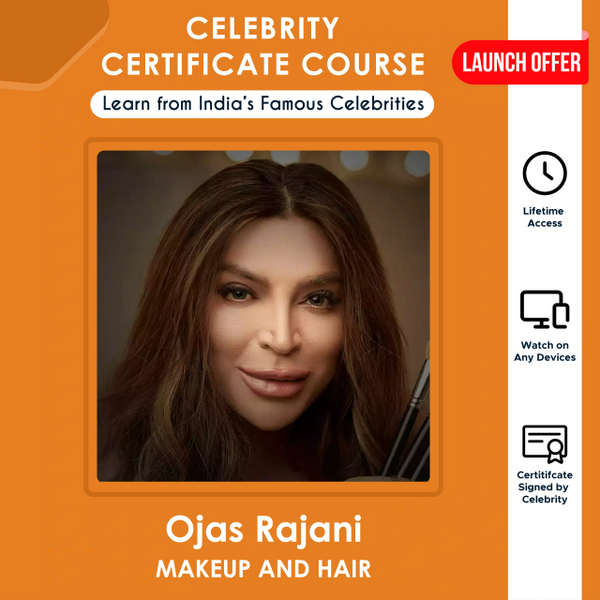 MakeUp and Hair Certificate Course by Ojas Rajani | Premium Pre-recorded Lessons
Ojas Rajani is a celebrity Make-Up and hairstylist. She is known as Aishwarya Rai's make-up artist. In her premium online classes, Ojas teaches you her make-up techniques to achieve that flawless look like celebrities. From bridal make-up to red carpet look, learn how to be your own stylist. Ojas also teaches the quick corporate look and shares the secret products used by celebrities like Priyanka Chopra for their glowing skin.

No. of Lessons: 32
Video Duration:
 6 hours 11 mins
Details of Lessons
Lesson 1. The Contemporary Bridal Look
Lesson 2. Soft Bridal Eye Makeup
Lesson 3. The Perfect Contouring
Lesson 4. Long Lasting Lipstick Secret
Lesson 5. Prepping Indian Skin for Makeup
Lesson 6. Ojas Rajani's Signature Look for Indian Skin
Lesson 7. Ojas Rajani's Signature Eye Makeup
Lesson 8. The Final Look
Lesson 9. Ultra Glamorous Indian Skin Tone Look
Lesson 10. Types of Makeup Brushes and Applying Techniques
Lesson 11. Celebrity Eye Makeup
Lesson 12. Victorian Contouring with Glass Finish
Lesson 13. How to Hold a Makeup Brush and Brush Stroking Techniques
Lesson 14. Delicate Pink Mehndi Look
Lesson 15. Ojas Rajani's Style - Bronze Sex Goddess Look
Lesson 16. Ojas Rajani's Style - Bronze Sex Goddess Look (Part - 2)
Lesson 17. The Final Look Secret
Lesson 18. 5-Minute Eye and Lip Makeup Magic
Lesson 19. Self Application for the Corporate Look
Lesson 20. One-Minute Transformation Secret
Lesson 21. Ojas Rajani's Red Carpet Look
Lesson 22. Ojas Rajani's Red Carpet Final Look with Diva Hairstyle
Lesson 23. Modern Indian Bridal Hair
Lesson 24. Modern Indian Bridal Hair (Part-2) and Final Look
Lesson 25. My Makeup Journey
Lesson 26. Are Expensive Makeup Products Needed?
Lesson 27. Win Makeup Goodies
Lesson 28. Men's Makeup: Tips and Tricks
Lesson 29. Working in Films as Aishwarya Rai's Makeup Stylist
Lesson 30. Being Successful as a Bollywood Makeup Artist
Lesson 31. Working with a Director
Lesson 32. Removing Makeup Like a Pro
FAQ
What does Ojas Rajani teach in her MakeUp course?

Ojas Rajani teaches you her signature style which are helpful for beginners as well as intermediate and advanced makeup artists. The course is a self-learning tool and helps you improve at your own pace.

Are there practical exercises given by Ojas Rajani?

Ojas Rajani teaches you everything - theory and practical techniques, which will help you to improve your Makeup skills. The course is full of exercises and practical tips and tricks.
Reviews