Master Building a Business Certificate Course by Bhavish Aggarwal | Pre-recorded Masterclass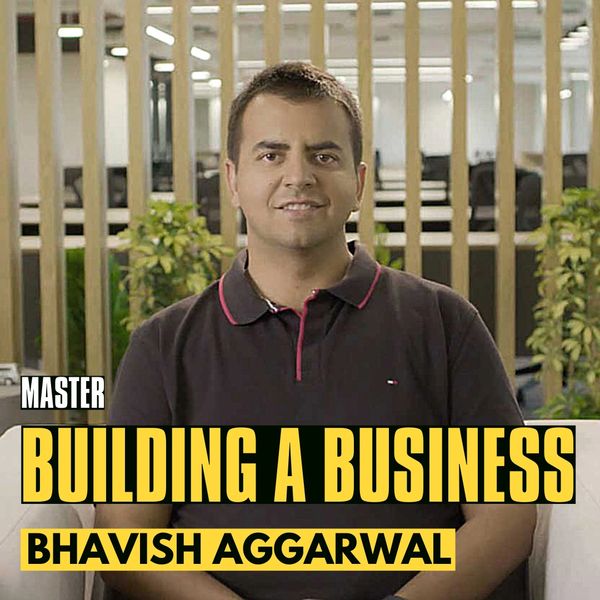 Master Building a Business Certificate Course by Bhavish Aggarwal | Pre-recorded Masterclass
From small town India to changing the way India moves, Bhavish Aggarwal is the perfect example of an outstanding self-made entrepreneur. As a first generation entrepreneur, who started his business from a single room in Bangalore to being the first homegrown tech company to create meaningful global impact, this Master has not stopped building & scaling his business from the day he started.
Bhavish has built Ola on a vision to succeed, passion and the determination to change every challenge into an opportunity while empowering all his stakeholders. In this exclusive masterclass, Bhavish Aggarwal shares his learnings so that you have the right tools to build your entrepreneurial dream.
Masterclass Duration:
 75 Mins
Key Takeaways from this Masterclass
Bhavish Aggarwal, uses case studies & anecdotes from his journey to share his tips on building & scaling a business.
With practical advice, he helps you understand how you can identify the right investors, the right organizations to acquire to grow your business and how to enhance the productivity of yourself and your teams.
The 10 Chapters provide the best solutions for those challenges that come your way while building your business.

Episode Summaries
Episode 1. The Start - 14:01 mins
Episode 2. Evolution of a Business - 07:07 mins
Episode 3. Value Creation - 05:50 mins
Episode 4. Study your Customer - 10:08 mins
Episode 5. Learn from Failure - 02:22 mins
Episode 6. Raising Capital - 07:07 mins
Episode 7. Mergers and Acquisitions - 08:44 mins
Episode 8. Enhancing Productivity - 06:54 mins
Episode 9. Ability to Pivot - 07:54 mins
Episode 10. Preparing for a crisis - 05:16 
mins
Reviews