Master Italian Cooking Certificate Course by Vicky Ratnani | Pre-recorded Masterclass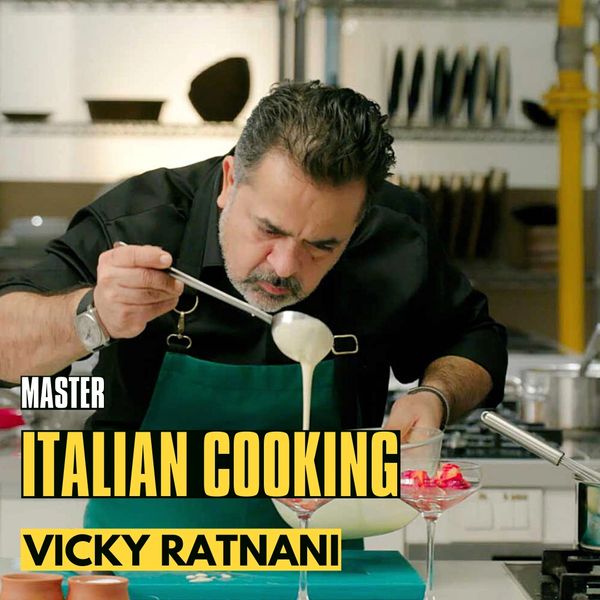 Master Italian Cooking Certificate Course by Vicky Ratnani | Pre-recorded Masterclass
Award winning Celebrity Chef. Vicky Ratnani is a flavour fanatic and has through decades mastered the art of conceptualising unique dishes using locally sourced Indian ingredients. 
In this masterclass, for the first time, Masterchef Vicky puts together recipes of 21 traditional Italian Dishes from appetizers to mains to desserts so that you bring Italy home!
Masterclass Duration: 199 Mins
Key Takeaways from this Masterclass
All recipes made with ingredients locally sourced from your neighbourhood shop or already available in your own kitchen.
Always wanted to make your own pasta? Now you can, with wheat flour as well!
Recipes so easy to master that you become the master yourself!

Episode Summaries
Episode 1. Let's start cooking! - 03:31 mins
Episode 2. The Vegetable Stock (Veg) - 03:31
Episode 3. The Rocket Salad with Portobello Mushrooms (Veg) - 07:19
Episode 4. Focaccia (Veg) - 14:20
Episode 5. Zucchini Involtini (Veg) - 05:39
Episode 6. Potato Croquettes (Veg) - 08:34
Episode 7. Melanzane Caponatta (Veg) - 08:43
Episode 8. Handmade Pasta (Veg) - 12:17
Episode 9. The Mushroom Bolognese (Veg) - 05:11 mins
Episode 10. Pasta-e-Fagioli (Veg) - 13:02
Episode 11. Saffron Risotto (Veg) - 12:24
Episode 12. Cauliflower Alla Pesto (Veg) - 06:46
Episode 13. Brocotto (Vegan) - 07:49
Episode 14. Brodo Di Pollo (Non-Veg) - 11:39
Episode 15. Stratachella (Egg Soup) - 06:17
Episode 16. To the market, to the market, to buy some Fish! - 05:08
Episode 17. Fish Aqua Pazzo (Non-Veg) - 07:43
Episode 18. Squid in Squid. (Non-Veg) - 14:05
Episode 19. Fra Diavolo. (Non-Veg) - 07:45
Episode 20. Chicken under a Brick (Non-Veg) - 08:01
Episode 21. Lamb Shanks (Non-Veg) - 09:26
Episode 22. Tiramisu (Veg) - 12:27
Episode 23. Handmade Pasta (Veg) - 12:17
Episode 23. Zabaglione (Veg) - 07:42
Reviews