Master Make-Up Certificate Course by Namrata Soni | Pre-recorded Masterclass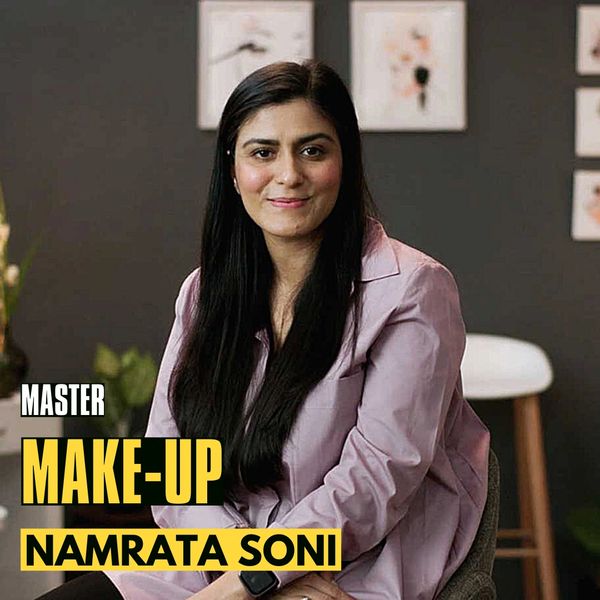 Master Make-Up Certificate Course by Namrata Soni | Pre-recorded Masterclass
Namrata Soni is an award winning make-up artist, sought after by some of the most famous Indian celebrities as a personal makeup artist and when they need the perfect look for their characters on screen. Having spent close to two decades in the makeup industry, as an artist in Bollywood, to doing makeup for some of the most famous cover shoots for international magazines, Namrata's years of experience complemented by formal training in the field makes her the perfect master for this masterclass on makeup. Her masterclass as she shares is to highlight the beauty within you while amplifying all your natural assets of great skin tone, well set eyes and the smile that just needs the perfect lipliner!

No. of Masterclass:
 16
Masterclass Duration:
183 Mins
Key Takeaways from this Masterclass
Master the 'no-make-up' make-up look with individual classes for each skin tone.
Learn tricks to master multiple eye makeup looks, suited for a day at work, a party and all other important occasions.
16 Chapters designed and delivered in a way that allows you to pause & practice all the looks.

Episode Summaries
Episode 1. Introduction - 01:06 mins
Episode 2. The No Make-Up, Make-up look for light skin - 33:00 mins
Episode 3. The No Make-Up, Make-up look for the medium skin tone - 33:50 mins
Episode 4. The No Make-Up, Make-up look for the deeper skin tones - 23:19 mins
Episode 5. Perfecting the eyeliner - 23:19 mins
Episode 6. Working with the coloured eyeliner - 00:16 mins
Episode 7. The Black Smokey Eye look - 1:02 mins
Episode 8. The Brown Smokey Eye Look - 14:19 mins
Episode 9. The Cranberry Smokey Eye Look - 14:19 mins
Episode 10. Mastering the day to night look in eye makeup! - 12:16 mins
Episode 11. Make-Up in under 5 minutes - 05:41 mins
Episode 12. The essentials in a make-up kit - 00:05 mins
Episode 13. Getting into the industry - 01:07 mins
Episode 14. The Do's and Don'ts - 09:46 mins
Episode 15. Ask Namrata - 04:39 mins
Episode 16. The Journey - 13:40
mins
Reviews