Master Office 365 Certificate Course by Nitin Paranjape | Pre-recorded Masterclass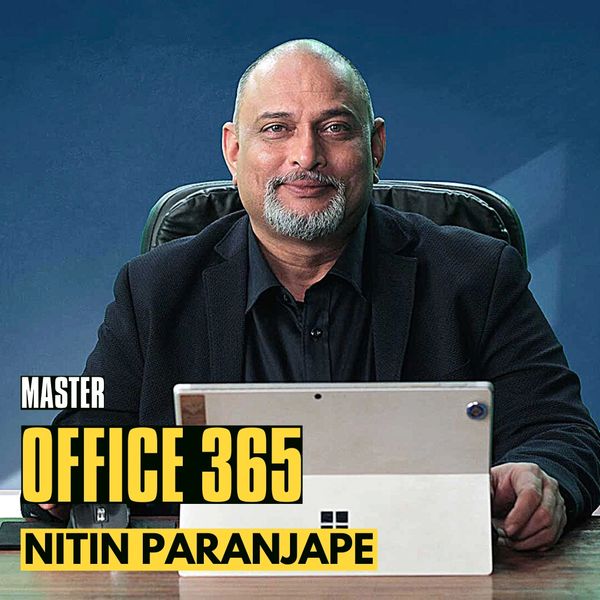 Master Office 365 Certificate Course by Nitin Paranjape | Pre-recorded Masterclass
Our Master, Office MVP, Dr. Nitin Paranjape has spent three decades in the Information Technology Industry mastering the Microsoft Office platform. With knowledge gained through the decades complemented by interactions and classes with over 3 Lakh People across 18 countries till date, Dr. Nitin has a unique understanding and insights about efficient usage of Office 365 apps. In this exclusive masterclass, Dr. Nitin breaks down the dependable Office 365, to make it more efficient for you, so that you get more impact with less effort.
No. of Masterclass:
7
Masterclass Duration:
105 Mins
Key Takeaways from this Masterclass
With independent classes on each office product, you become the master of Word, Powerpoint, Excel, One Note, Mail, Task and most importantly the master of your time.
All episodes include live demos to make learning easy and visual.
Episode Summaries
Episode 1. Is there an efficient way? - 08:29 mins
Episode 2. Creating Better Documents - 24:04
Episode 3. Simplifying Data Analysis. - 27:42
Episode 4. Building High Impact Presentations - 17:5
Episode 5. Effective management of Mail, Tasks and Time. - 13:03
Episode 6. The wonderful One Note - 13:09
Episode 7. The efficient mindset - 1:02
Reviews